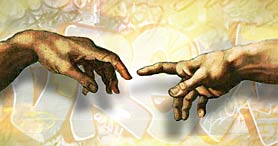 What I believe
I believe that God is a definite reality – not an imagined crutch for weak humans, who need "something" to believe in.
God is the origin source of creativity. He formed the world and made it abundant of sparkling life and beauty in every detail.
We are no gods, but we are like God in a way: We have the ability to be creative.
According to my own simple logic, life is at its best when you live in harmony with the One who is the source of the whole creation.
Jesus is the link between us and God. We can only come to God through him.